Page 16 - Moreton Village Only Book
P. 16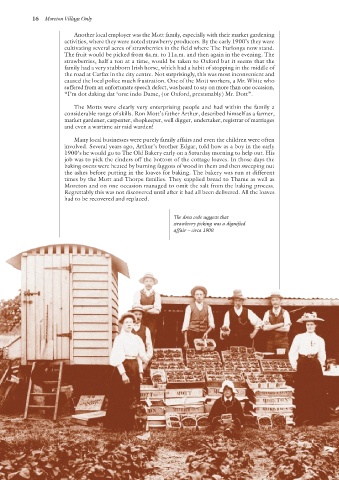 16 Moreton Village Only


                           Another local employer was the Mott family, especially with their market gardening
                        activities, where they were noted strawberry producers. By the early 1900's they were
                        cultivating several acres of strawberries in the field where The Furlongs now stand.
                        The fruit would be picked from 4a.m. to 11a.m. and then again in the evening. The
                        strawberries, half a ton at a time, would be taken to Oxford but it seems that the
                        family had a very stubborn Irish horse, which had a habit of stopping in the middle of
                        the road at Carfax in the city centre. Not surprisingly, this was most inconvenient and
                        caused the local police much frustration. One of the Mott workers, a Mr. White who
                        suffered from an unfortunate speech defect, was heard to say on more than one occasion,
                        "I'm dot daking dat 'orse indo Dame, (or Oxford, presumably) Mr. Dott".

                           The Motts were clearly very enterprising people and had within the family a
                        considerable range of skills. Ron Mott's father Arthur, described himself as a farmer,
                        market gardener, carpenter, shopkeeper, well digger, undertaker, registrar of marriages
                        and even a wartime air raid warden!

                           Many local businesses were purely family affairs and even the children were often
                        involved. Several years ago, Arthur's brother Edgar, told how as a boy in the early
                        1900's he would go to The Old Bakery early on a Saturday morning to help out. His
                        job was to pick the cinders off the bottom of the cottage loaves. In those days the
                        baking ovens were heated by burning faggots of wood in them and then sweeping out
                        the ashes before putting in the loaves for baking. The bakery was run at different
                        times by the Mott and Thorpe families. They supplied bread to Thame as well as
                        Moreton and on one occasion managed to omit the salt from the baking process.
                        Regrettably this was not discovered until after it had all been delivered. All the loaves
                        had to be recovered and replaced.


                                                              The dress code suggests that
                                                              strawberry picking was a dignified
                                                              affair – circa 1900.