Page 15 - Moreton Village Only Book
P. 15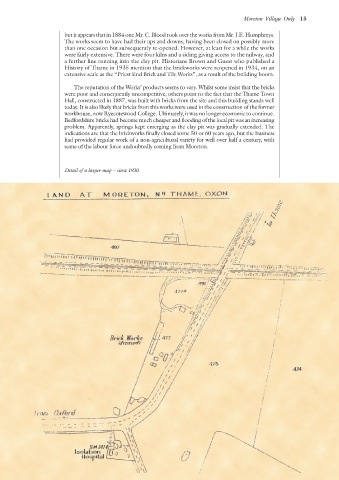 Moreton Village Only 15


                        but it appears that in 1884 one Mr. C. Blood took over the works from Mr. J.E. Humphreys.
                        The works seem to have had their ups and downs, having been closed on possibly more
                        than one occasion but subsequently re-opened. However, at least for a while the works
                        were fairly extensive. There were four kilns and a siding giving access to the railway, and
                        a further line running into the clay pit. Historians Brown and Guest who published a
                        History of Thame in 1935 mention that the brickworks were reopened in 1934, on an
                        extensive scale as the "Priest End Brick and Tile Works", as a result of the building boom.
                           The reputation of the Works' products seems to vary. Whilst some insist that the bricks
                        were poor and consequently uncompetitive, others point to the fact that the Thame Town
                        Hall, constructed in 1887, was built with bricks from the site and this building stands well
                        today. It is also likely that bricks from this works were used in the construction of the former
                        workhouse, now Ryecotewood College. Ultimately, it was no longer economic to continue.
                        Bedfordshire bricks had become much cheaper and flooding of the local pit was an increasing
                        problem. Apparently, springs kept emerging as the clay pit was gradually extended. The
                        indications are that the brickworks finally closed some 50 or 60 years ago, but the business
                        had provided regular work of a non-agricultural variety for well over half a century, with
                        some of the labour force undoubtedly coming from Moreton.




                        Detail of a larger map – circa 1930.