Page 6 - Moreton Village Only Book
P. 6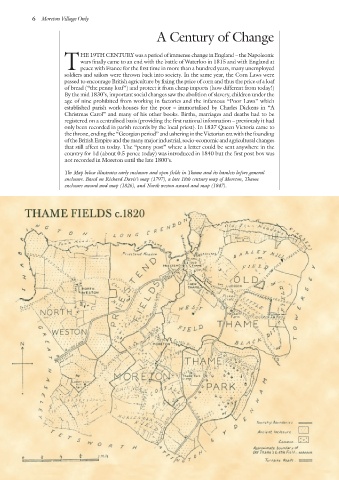 6 Moreton Village Only

                                                        A Century of Change



                             HE 19TH CENTURY was a period of immense change in England – the Napoleonic
                             wars finally came to an end with the battle of Waterloo in 1815 and with England at
                        T peace with France for the first time in more than a hundred years, many unemployed
                        soldiers and sailors were thrown back into society. In the same year, the Corn Laws were
                        passed to encourage British agriculture by fixing the price of corn and thus the price of a loaf
                        of bread ("the penny loaf") and protect it from cheap imports (how different from today!)
                        By the mid 1830's, important social changes saw the abolition of slavery, children under the
                        age of nine prohibited from working in factories and the infamous "Poor Laws" which
                        established parish work-houses for the poor – immortalised by Charles Dickens in "A
                        Christmas Carol" and many of his other books. Births, marriages and deaths had to be
                        registered on a centralised basis (providing the first national information – previously it had
                        only been recorded in parish records by the local priest). In 1837 Queen Victoria came to
                        the throne, ending the "Georgian period" and ushering in the Victorian era with the founding
                        of the British Empire and the many major industrial, socio-economic and agricultural changes
                        that still affect us today. The "penny post" where a letter could be sent anywhere in the
                        country for 1d (about 0.5 pence today) was introduced in 1840 but the first post box was
                        not recorded in Moreton until the late 1800's.

                        The Map below illustrates early enclosure and open fields in Thame and its hamlets before general
                        enclosure. Based on Richard Davis's map (1797), a late 18th century map of Moreton, Thame
                        enclosure award and map (1826), and North weston award and map (1847).