Page 9 - Vauxhall 20-60 H.P. (R Type) Chassis Shop Manual
P. 9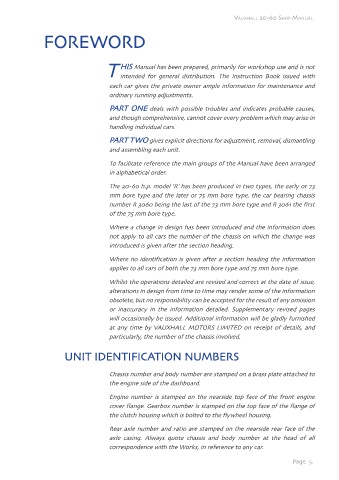 VAUXHALL 20-60 SHOP MANUAL

                FOREWORD




                                      T    HIS Manual has been prepared, primarily for workshop use and is not

                                           intended for general distribution. The Instruction Book issued with
                                       each car gives the private owner ample information for maintenance and
                                       ordinary running adjustments.

                                       PART ONE deals with possible troubles and indicates probable causes,
                                       and though comprehensive, cannot cover every problem which may arise in
                                       handling individual cars.

                                       PART TWO gives explicit directions for adjustment, removal, dismantling
                                       and assembling each unit.

                                       To facilitate reference the main groups of the Manual have been arranged
                                       in alphabetical order.

                                       The 20-60 h.p. model 'R' has been produced in two types, the early or 73
                                       mm bore type and the later or 75 mm bore type, the car bearing chassis
                                       number R 3060 being the last of the 73 mm bore type and R 3061 the first
                                       of the 75 mm bore type.

                                       Where a change in design has been introduced and the information does
                                       not apply to all cars the number of the chassis on which the change was
                                       introduced is given after the section heading.

                                       Where no identification is given after a section heading the information
                                       applies to all cars of both the 73 mm bore type and 75 mm bore type.

                                       Whilst the operations detailed are revised and correct at the date of issue,
                                       alterations in design from time to time may render some of the information
                                       obsolete, but no responsibility can be accepted for the result of any omission
                                       or inaccuracy in the information detailed. Supplementary revised pages
                                       will occasionally be issued. Additional information will be gladly furnished
                                       at any time by VAUXHALL MOTORS LIMITED on receipt of details, and
                                       particularly, the number of the chassis involved.


                        UNIT IDENTIFICATION NUMBERS


                                       Chassis number and body number are stamped on a brass plate attached to
                                       the engine side of the dashboard.

                                       Engine number is stamped on the nearside top face of the front engine
                                       cover flange. Gearbox number is stamped on the top face of the flange of
                                       the clutch housing which is bolted to the flywheel housing.

                                       Rear axle number and ratio are stamped on the nearside rear face of the
                                       axle casing. Always quote chassis and body number at the head of all
                                       correspondence with the Works, in reference to any car.

                                                                                                        Page  5.